ERIA Holds Webinar on ASEAN MSMEs in a COVID-19 World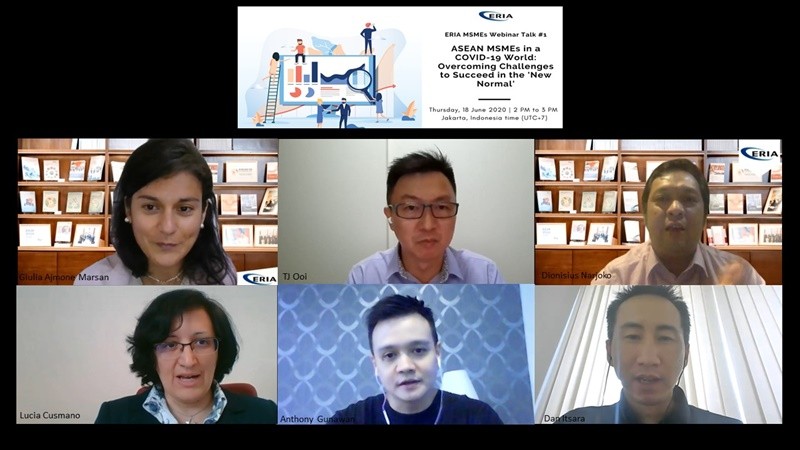 Jakarta 18 June 2020: The Economic Research Institute for ASEAN and East Asia (ERIA) has launched a new series of webinars to discuss how ASEAN Micro, Small and Medium Enterprises (MSMEs) are adapting to the new COVID-19 reality. This webinar series is organised under ERIA's Strategy and Partnership Programme, funded by Australia. The ERIA MSME Talk #1, ASEAN MSMEs in a COVID-19 World: Overcoming Challenges to Succeed in the 'New Normal', was held on 18 June 2020 and gathered more than 120 participants from the Asia-Pacific region, Europe and the Americas. It addressed the issues ASEAN MSMEs are facing and what strategies need to be developed to overcome challenges to succeed.
The four speakers of the webinar were:
Mr Anthony Gunawan, Founder and CEO of Wakuliner, a culinary online platform from Indonesia;
Mr Dan Itsara, Chief Technical Officer of Morphosis, a digital consultancy SME based in Thailand;
Dr Lucia Cusmano, Head of the SME and Entrepreneurship Division of the OECD Centre for Entrepreneurship, SMEs, Regions and Cities;
Dr Dionisius Narjoko, Senior Economist, ERIA.
The main messages that emerged from the discussion included:
There is no unique 'new normal' for ASEAN MSMEs: many variations of new normal are emerging depending on the individual characteristics of each firm- based on sector in which they operate, skill level of employees, integration in regional and global networks, etc;
Irrespective of what the new normal means for ASEAN MSMEs, being agile and able to rapidly adapt to the changing business landscape is key to overcome challenges in the short and medium term, including disruptions of GVCs and traditional regional networks;
Government support (fiscal stimulus, tax deductions, loans and guarantee schemes, etc) is and will continue to be crucial but to restore pre-crisis demand new and innovative policy tools may be required;
The acceleration of online activities requires investments in digital infrastructure and in skills to make MSMEs employees able to quickly adapt to new digitally enabled business models and seize emerging opportunities.
Dr Lucia Cusmano, Head of SME and Entrepreneurship of OECD, mentioned that, according to OECD estimates, the impact of COVID-19 may result in up to a 6% drop in global GDP and 50% of SMEs worldwide are at risk for bankruptcy in the short period. Acceleration in the digital transformation, reorganisation of the global value chains and possible reshoring of some activities to developed countries, preparedness to adapt for the whole business team are important points for MSMEs to consider to survive and to benefit from rising opportunities.
Mr Anthony Gunawan, Founder and CEO of Wakuliner Indonesia, also highlighted the importance for MSMEs to be agile to succeed in this unprecedented situation. For instance, his business had to move to teleworking and that meant entirely re-organising the kitchen operations of his employees.
Mr Dan Itsara, Chief Technical Officer of Morphosis Thailand, pointed out the increasing need to accelerate digitalisation in the business environment. He also mentioned how the degree of technology adoption varies significantly from one firm to another and that has important implications for how quickly companies are able to react to shocks and move some parts of the operation online.
Dr Dionisius Narjoko, Senior Economist of ERIA, indicated that the demand in business will be slowly recovering, especially in developing countries in the ASEAN region. He also observed how many ASEAN MSMEs need to develop long-term business plans, flexibility in business mindset and structure, and external supports from government or NGOs to effectively tap into supply chain. Dr Narjoko also highlighted the importance of innovation as a key factor for survival of ASEAN MSMEs.
The webinar was moderated by Dr Giulia Ajmone Marsan, Director of the Strategy and Partnership Programme of ERIA. Mr TJ Ooi, Founder and Principal Consultant at Curated Connectors, a Singapore-based start-up, provided support to the organisation of the webinar and moderated the lively discussion during the Q&A session. Participants raised several questions on the viability of business models, the implementation of measures to overcome challenges, and the future of employment and new skills needed in the COVID-19 'New Normal'.
Related Publication
Study on MSME Participation in the Digital Economy in ASEAN
COVID-19 and Southeast and East Asian Economic Integration: Understanding the Consequences for the Future
Related Articles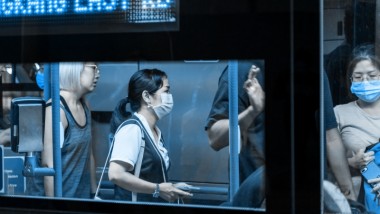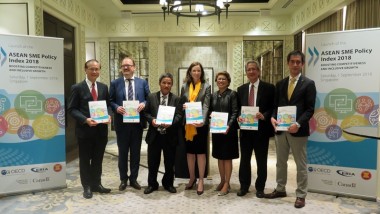 CHOOSE FILTER