ERIA Holds 12th Academic Advisory Council (AAC) Meeting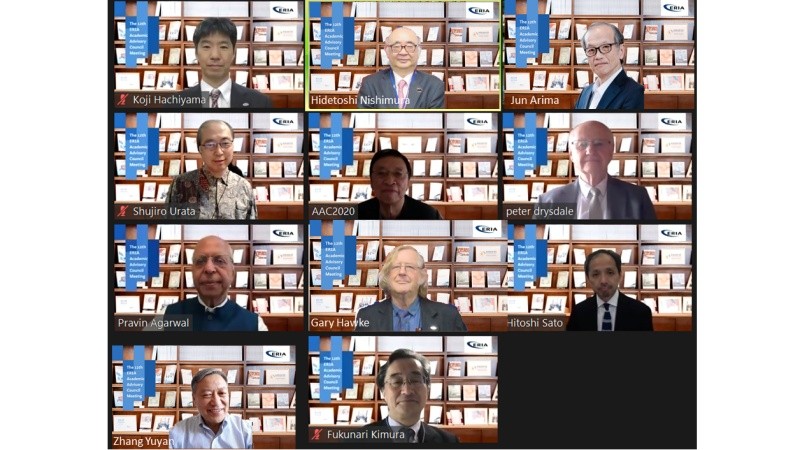 Jakarta, 12 September 2020: The Economic Research Institute for ASEAN and East Asia (ERIA) hosted the 12th Academic Advisory Council (AAC) Meeting virtually in wake of the pandemic.
The annual meeting brings together members of ERIA's AAC which is made up of internationally renowned East Asia Summit countries' scholars and experts from universities, research institutions, the private sector, international organizations, and non-governmental organizations.
Chairperson of AAC, Dr Hank Lim (Senior Research Fellow, Singapore Institute of International Affairs), moderated the virtual meeting. The AAC members in attendance were Prof Dr Peter Drysdale (Emeritus Professor, Crawford School of Economics and Government, Australia), Prof Gary Hawke (Emeritus Professor, Victoria University of Wellington, and Senior Fellow, NZ Institute of Economic Research, New Zealand), Prof Zhang Yuyan (Director, Institute of World Economics and Politics (IWEP), Chinese Academy of Social Sciences (CASS)), and Mr Pravin Kumar Agarwal (Director of The Energy and Resource Institute, India). Dr Hiroshi Sato (Director General of ERIA Support Office, IDE-JETRO) attended as the proxy representing Prof Kyoji Fukao, President of the Institute of Developing Economies (IDE) JETRO, Japan.
In his opening remarks, Dr Hank Lim welcomed all the AAC members and participants who joined from various parts of the world, an undertaking he highlighted was possible due to technological advancements. He further noted that the pandemic is not a transitory period thus ERIA must be prepared to understand the implications of the COVID-19 crisis on regional and global development.
Prof Hidetoshi Nishimura, President of ERIA, called attention to the weak global economic forecast of negative 4.9% this year then asserted the importance to sustain active international production networks and to enhance international competitiveness. In the context of research activities in FY2019, Prof Nishimura mentioned ERIA's extensive work and policy papers on regional production networks, energy supply and demand estimation, and waste management in wake of the pandemic.
Prof Nishimura invited AAC members to take advantage of the event to address four central themes listed in the Ministers Joint Media Statement from the EAS Economic Ministers Meeting in August where ERIA presented. The themes are: 1) Improve trade and investment including making value chains resilient to shocks of EAS economies, 2) Effectively address the impending recession, 3) Promote new technologies and 4) Develop a framework for the EAS regional economic integration and development after overcoming the COVID-19 pandemic".
ERIA's Chief Operating Officer Mr Koji Hachiyama provided a general overview on the direction of ERIA Work Plan for FY2020 and Beyond, marking Mr Hachiyama's first AAC participating since his appointment in June 2019. AAC members were given a first glimpse of ERIA's new office at the ASEAN Secretariat building which opened in July 2020, and Mr Hachiyama expressed his hope that it will become a new hub for the think tank's future activities.
Prof Fukunari Kimura, ERIA's Chief Economist, showcased the organization's research activities in FY2019 and FY2020 followed by a presentation from Prof Jun Arima, ERIA's Senior Policy Fellow for Energy and Environment regarding energy research activities for FY2019 and FY2020.
The event participants as well as AAC members praised ERIA's ability to rise above the challenges triggered by the pandemic such as by continuing its many research activities. Prof Gary Hawke stated that the success is testimony to ERIA's numerous achievements accumulated over the years. The important and wide-ranging research that ERIA has conducted gives it an upper hand in assisting decisionmakers with policy redirections or responses during these unprecedented times.
In his closing speech, Prof Nishimura expressed his appreciation for the interactive and fruitful implementation of the 12th Academic Advisory Council Meeting. Going forward and in the post-pandemic world, ERIA will continue promoting regional economic integration and sustainable economic development in the East Asia region through multi-faceted research in diverse sectors.
Image Gallery
CHOOSE FILTER