ERIA Contributes to the OECD Southeast Asia Ministerial Conference Discussions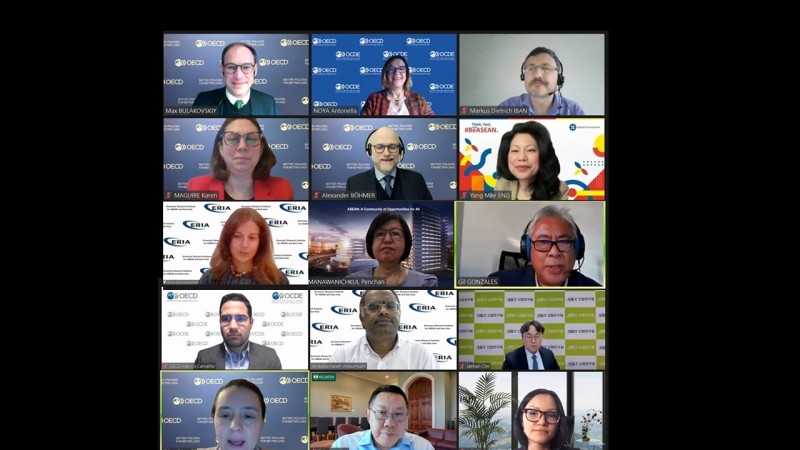 Jakarta/Seoul/Paris, 8 February 2022: ASEAN is the third fastest-growing major Asian economy with a combined GDP of USD 3.2 trillion. However, the emergence of the COVID-19 pandemic has disrupted the socio-economic landscape. Amid a global context of recovery from the pandemic, countries, industries and firms are faced with the intensification of two core transformational trends to society: on the one hand, the increased adoption of digital technologies can be key to boosting aggregate productivity and raising the skills of actors that were previously lagging behind. On the other, it has become clear that innovation and systemic change will be crucial in confronting the challenge of climate change and achieving carbon neutrality for sustainable long-term economic growth. Governments can play a decisive role in designing industry, innovation, and entrepreneurship policy mixes that allow firms to better navigate and thrive during these transitions.
The region needs to implement measures to realise its vision towards a more inclusive and sustainable ASEAN in the post-pandemic phase. Key areas to support the transition are a faster adoption of digital technologies, training, reskilling and upskilling of individuals, and the implementation of environmental protection frameworks, such as the 'Framework for the Circular Economy for the ASEAN Economic Community (AEC)'. In addition, the social economy approach represents a cutting-edge solution to build back better and more resilient. This approach implies injecting more social responsibility into the economic sphere: the promotion of more inclusive and social business models is crucial, as well as the development of right skills to foster cooperation between social economy enterprises and inclusive business, including through partnerships.
ERIA partnered with the OECD to contribute to two side events of the OECD Southeast Asia Regional Programme (SEARP) Ministerial Conference taking place in Seoul, Korea on 9-10 February 2022. In preparation for this event, on 4 February, Dr Giulia Ajmone Marsan, ERIA Director for Strategy and Partnership, shared insights on recent ERIA research on ASEAN social enterprises working to promote the inclusion of persons with disabilities in ASEAN economies, at an online event organised by the OECD Centre for Entrepreneurship, SMEs, Regions and Cities. The event was opened by Ms Karen Maguire, Head of Local Employment, Skills and Social Innovation (LESI) Division, OECD and Ms Penchan Manawanitkul, Head of Enterprise & Stakeholders Engagement Division, Assistant Director, ASEAN Secretariat.
Ms Noya Antonella, Head Social Economy and Innovation Unit, OECD delivered the keynote speech she discussed during which she pivotal role of social economy in promoting resilient and sustainable economic growth. She also elaborated the concept of social economy approaches that address key issues around job creation, environmental challenges, social inclusion and gender equality, as well as youth and innovation. Dr Ajmone Marsan participated in the panel discussion along with Dr Yang Mee Eng, Executive Director, ASEAN Foundation; Mr Markus Dietrich, Director, Policy, Inclusive Business Action Network (iBAN); Mr Gil Gonzalez, Executive Director, ASEAN Business Advisory Council (BAC).
On 8 February , ERIA organised together with the OECD Directorate for Science, Technology and Innovation the online panel discussion 'Gearing up for a Post-Pandemic World: Designing Policies for an Innovative Sustainable Recovery in East and Southeast Asia'. Senior speakers from ASEAN and OECD countries shared their views on the key measures to implement to support a more sustainable and inclusive economic recovery across ASEAN: Dr Jaehan Cho, Director, Innovative Growth Policy Division, Korea Institute for Industrial Economics and Trade; Dr Venkatachalam Anbumozhi, Director of Research Strategy and Innovation, ERIA, who presented recent ERIA research; Dr Julia Tijaja, Former Director of ASEAN Integration Monitoring at the ASEAN Secretariat; Prof Siah Hwee Ang, Professor of International Business and Strategy and Director of Southeast Asia Centre of Asia-Pacific Excellence, Victoria University of Wellington, New Zealand. The roundtable was moderated by Dr Chiara Criscuolo, Head, Productivity, Innovation and Entrepreneurship Division, OECD.
Gearing up for a Post-Pandemic World: Designing Policies for an Innovative and Sustainable Recovery in Southeast Asia - Bio book
Related Articles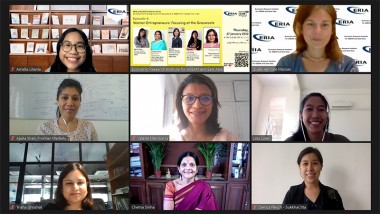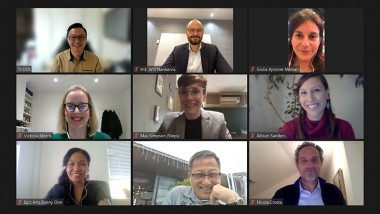 CHOOSE FILTER