ERIA and UNDP Launch Project 2045 Final Report and Host High Level Seminar and Reception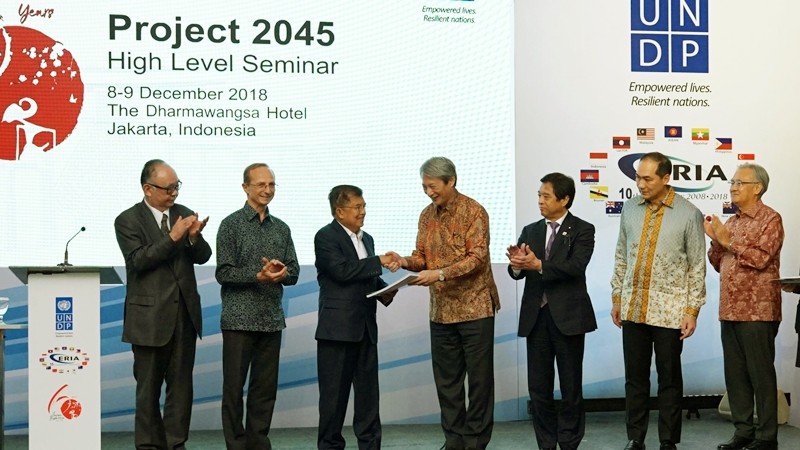 Jakarta, 9 December 2018: The Economic Research Institute for ASEAN and East Asia (ERIA) and the United Nations Development Programme (UNDP) hosted a reception and High Level Seminar to launch the report of 'Project 2045: The Path to Peaceful and Prosperous Indonesia 2045' on 8-9 December 2018 in Jakarta, Indonesia.
Project 2045 is to commemorate the 60th anniversary of Indonesia-Japan diplomatic relations. The objective of the Project 2045 Report is to provide a vision of cooperation between the two countries progressing towards 2045, the 100th anniversary of Indonesia's independence. Dr Takashi Shiraishi, the Chancellor of the Prefectural University of Kumamoto and H.E. Mr Muhammad Lutfi, the former Ambassador of the Republic of Indonesia to Japan co-chaired the committee in charge of the development of the report. The full report was handed to H.E. Drs. H.M. Muhammad Jusuf Kalla, the Vice President of Indonesia and H.E. Mr Teru Fukui, the former Minister of State for Ocean Policy and for Okinawa and Northern Territories Affairs, Japan by the two Co-chairs during the reception.
The Project 2045 Report highlighted three common targets of Japan and Indonesia: (1) to uphold democracy and become maritime global powers (political level); (2) to be ranked among the world's top five economies (economic level); (3) to achieve high quality of life beyond the 2030 Sustainable Development Goals (social level). The report stresses the importance of the two countries to form a joint partnership to realise a life of plenty, freedom, and safety for their citizens, and to achieve a peaceful, stable, democratic, diverse, and tolerant society.
The High Level Seminar discussed the importance of long-lasting Indonesia-Japan relations as key maritime countries in East Asia and its future cooperation. A number of high-ranking representatives from both countries including former as well as active ministers, parliament members, ambassadors and academics joined the seminar as speakers and audience members. Among the attendees were H.E. Mr Bambang P.S. Brodjonegoro, Minister of National Development Planning of the Republic of Indonesia; H.E. Mr Airlangga Hartarto, Minister of Industry of the Republic of Indonesia; H.E. Mr Rudiantara, Minister of Communication and Information of the Republic of Indonesia; Prof. Dr. Ir. Ginandjar Kartasasmita, Chairman of Indonesia-Japan Friendship Association; Prof. Dr Mari Elka Pangestu, former Minister of Trade of the Republic of Indonesia; Dr Muhammad Chatib Basri, former Minister of Finance of the Republic of Indonesia; H.E. Mr Tsukasa Akimoto, State Minister of the Environment of Japan; H.E. Mr Tadahiko Ito, former State Minister of the Environment of Japan; H.E. Mr Masafumi Ishii, Ambassador of Japan to the Republic of Indonesia and Co-Chair of Project 2045.
The High Level Seminar Project 2045 reflects how after six decades of strong, cooperative bilateral relations, Indonesia and Japan remain dedicated in further deepening ties for the realisation of an equitable society.
Related Documents
ERIA and UNDP joint press release
Project 2045 Executive Summary Indonesia - Japan 2045 : A Joint Project of Two Maritime Democracies
Report of Project 2045 For 'Joint Partnership' towards Our Common Future: A Joint Project of Two Maritime Democracies
Adding a Gender Dimension to the Report of Project 2045
Symposium 1: To uphold democracy and become maritime global powers
Symposium 2: to be Top 5 GDP
Symposium 3: To achieve High Quality of Life beyond SDGs 2030
Videos
Image Gallery
CHOOSE FILTER