AmCham Indonesia and ERIA Launch Survey Results on the Impact of COVID-19 on Foreign Firms in ASEAN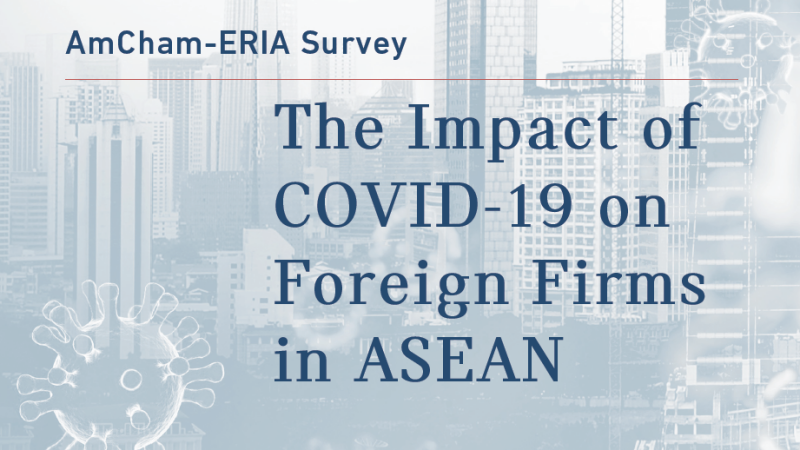 Jakarta, 30 November 2020: The American Chamber of Commerce in Indonesia (AmCham) and the Economic Research Institute for ASEAN and East Asia (ERIA) hosted an event to launch the results of the survey 'The Impact of COVID-19 on Foreign Firms in ASEAN'.
AmCham and ERIA created a rapid survey in April 2020 to understand the evolving needs of US companies in Indonesia. Five months later, the two institutions joined forces again to implement a similar survey providing a more in-depth investigation of how foreign companies in ASEAN have been responding to COVID-19 and what plans they have moving forward.
Twenty-four chambers and business organizations representing foreign companies were involved in the implementation of this survey. 264 firms with operations in ASEAN responded to 26 questions about the impact of COVID-19 on their business operations.
Key findings of the survey include:
Almost all firms experienced a negative impact due to the pandemic, with impacts on output, revenue, and/or sales across all countries of operation. Overall, the Dairy and Meat sector was hit the hardest with 100% reporting some degree of negative impact ('slightly', 'moderately' or 'significantly' adverse). This is followed by Electronics and Healthcare. The Trade and Logistics sector is the least negatively impacted (50%) with 28% of firms experiencing some positive impact.
75% of firms experienced a significant reduction in output/revenue/sales. That reduction was due mostly to lack of demand (79%). 72% of firms experienced supply chain interruptions.
Measures taken in response to this included the introduction of remote working, hiring freezes, and reductions in the number of employees.
Up to 43% of firms already have or are considering reducing operations or production and up to 27% may reshore operations. Up to 48% may move operations from China to another country.
Most companies anticipate that business activities will stabilize in the 'new normal' in Q2 2021 or later. 51% think it will be better in 2 years, 42% think it will be the same, 7 % think it will be worse.
Certain innovations such as increased video conferencing and working from home are expected to become permanent.
The event was opened by Mr Lin Neumann, the Managing Director of AmCham Indonesia. After welcoming the panellists and participants, he thanked ERIA for the strong collaboration. He also thanked the 24 businesses organizations and chambers representing many nationalities who helped to distribute the survey to their members.
In his Opening Remarks, Mr Koji Hachiyama, the COO of ERIA, thanked everyone who helped implement the survey and said 'This survey will serve as the voice of businesses across ASEAN regarding the impact of the pandemic on their operations and how they plan to manage operations and investment now and into the near future.'
After showing a short video that summarized the results, Ms Lydia Ruddy, Director of Communications for ERIA who lead the survey, presented some of the results in more detail. This was followed by a panel discussion with Mr Sunit Dhoka, Country Representative, Cargill Indonesia; Ms Siobhan Das, CEO, American Malaysian Chamber of Commerce; and Mr Dionisius Narjoko, Senior Economist, ERIA.
Related Articles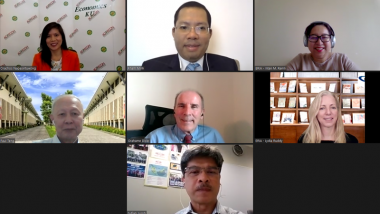 CHOOSE FILTER