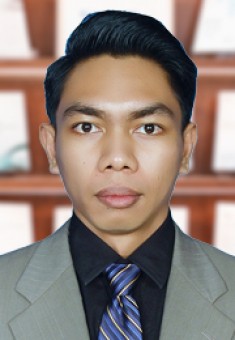 Militcyano Samuel Sapulette
Research Associate
Militcyano Samuel Sapulette joined ERIA in March 2022. As a research associate at ERIA, Sapulette is currently working on a project about eastern Indonesia's development.
Before working at ERIA, Sapulette worked in research and independent consulting at governmental and higher education organisations. From 2021 to February 2022, Sapulette worked as a research assistant at Bank Indonesia Institute. There, he assisted senior researchers in research about capital flows, central bank digital currency, and green economy transformation. Sapulette was also affiliated with several research institutions under Universitas Padjadjaran as a junior researcher. Additionally, he also worked as an independent consultant, mainly for companies in the financial industry, performing financial projection and modelling.
Sapulette has also participated in numerous scientific conferences. In 2021, he was the deputy president of the organising committee for the 7th Indonesian Health Economics Biennial Scientific Meeting. He holds a bachelor's degree in Economics from Universitas Padjadjaran, from which he graduated in 2020 with the highest GPA in his department. His undergraduate thesis has now been published in a Q2 Scopus-indexed journal.
Research Interests
Financial technology
Financial inclusion
Financial system
Capital flows
Education
2016-2020

Bachelor of Economics
Universitas Padjajaran, Bandung
Experience
March 2022 - present

Research Associate
ERIA

April 2021 - February 2022

Research Assistant
Bank Indonesia Institute

July 2019 - February 2022

Junior Researcher
Universitas Padjajaran Center for Economics and Development Studies

February 2021 - February 2022

Associate Researcher
Universitas Padjajaran Center of Business and Management

July 2019 - August 2019

Junior Intern
Bank Indonesia West Java representative office

July 2018 - July 2019

Teaching Assistant
Faculty of Economics and Business, Universitas Padjajaran
Publications
Effendi, N., V. I. Dewi, E. Erviani, B. Budiono, A. F. Priyono and M. S. Sapulette (2022), 'Peningkatan Pemahaman Program Bantuan dan Insentif Bagi Pelaku Usaha UMKM, Serta Peran Digitalisasi di Era Pandemi Covid-19 Dan Sesudahnya', JMM (Jurnal Masyarakat Mandiri), 6(1), 236-247.
Effendi, N., A. F. Priyono, M. S. Sapulette and V. I. Dewi (2022), 'Pelatihan Literasi Keuangan Digital Kepada Pengusaha Mikro di Kabupaten Bandung, Jawa Barat', Panrita Abdi-Jurnal Pengabdian pada Masyarakat, 6(1), 81-90.
Sapulette, M. S., N. Effendi and T. Santoso (2021), 'Fintech, Banks, And The Covid-19 Pandemic: Evidence From Indonesia', Bulletin of Monetary Economics and Banking, 24(4), 559-588.
Sapulette, M. S. and T. Santoso (2021), 'Macroeconomic and Public Health Policies amid COVID-19 Pandemic: Global Financial Sectors' Responses', Kajian Ekonomi dan Keuangan, 5(2), 91-102.
Sapulette, M. S. and Dyana (2020), 'Does Fintech Growth Affect Bank Stability: An Empirical Evidence from Indonesia Banking Industry', Buletin Riset Kebijakan Perbankan, Vol. 2(1).
Setiawan, M., N. Effendi, T. Santoso, V. I. Dewi and M. S. Sapulette (2020), 'Digital financial literacy, current behavior of saving and spending and its future foresight', Economics of Innovation and New Technology, 1-19.