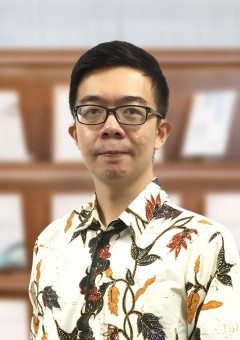 Hendro Putra Johannes
Research Associate
Hendro Putra Johannes is a Research Associate in ERIA's Research Department. He is currently specialising on environmental issues especially waste management, recycling, and marine plastic debris.
Graduated from the School of Environmental Science of Universitas Indonesia, he has conducted several research projects related to the environmental issues. He has completed research on main topics such as water footprint, life cycle assessment, waste management, and sustainability. Some of the research have been published in indexed proceeding and journal.
His interest in scientific writing has led him to win the National Essay Competition raising the theme Literacy to Support National Development in June 2019. Hendro has also served as a Managing Editor Assistant at Journal of Environmental Science and Sustainable Development (JESSD) since 2018.
Research Interests
Waste management
Water footprint
Life cycle assessment
Sustainability
Environmental ethics and philosophy
Education
2017-2019

Master of Science in Environmental Science

Universitas Indonesia

2013-2017

Bachelor of Engineering in Industrial Engineering

Universitas Pelita Harapan
Experience
2018-now

Managing Editor Assistant

Journal of Environmental Science and Sustainable Development
Recent Publications
Johannes, H.P., C.R. Priadi and H. Herdiansyah (in press), 'Water Footprint Saving through Organic Rice Commodity', AIP Conference Proceedings.
Johannes, H.P., C.R. Priadi and H. Herdiansyah (2019), 'Organic Rice Farming: An Alternative to Sustainable Agriculture', IOP Conference Series: Materials Science and Engineering, 546, pp.022008. https://doi.org/10.1088/1757-899X/546/2/022008
Johannes, H.P. (2018), 'Waste reduction through integrated waste management modeling at Mustika Residence (Tangerang)', Journal of Environmental Science and Sustainable Development, 1(1), pp.12–24. https://doi.org/10.7454/jessd.v1i1.15
Hartono, N., Laurence and H.P. Johannes (2017), 'Identification, Measurement, and Assessment of Water Cycle of Unhusked Rice Agricultural Phases: Case study at Tangerang Paddy Field, Indonesia', IOP Conference Series: Materials Science and Engineering, 273, pp.012009. https://doi.org/10.1088/1757-899X/245/1/012009
Johannes, H.P. and H.J. Kristina (2017), 'Measurement of Production Process Performance of High Five Product at PT. Matahari Leisure Using Lean and Green Manufacturing Approach', Proceedings of the 2nd ILCAN Conference Series on Life Cycle Assessment, 2, pp.29–37. http://www.ilcan.or.id/wp-content/uploads/2017/02/V5-E-Proceeding-ICSoLCA-2016.pdf