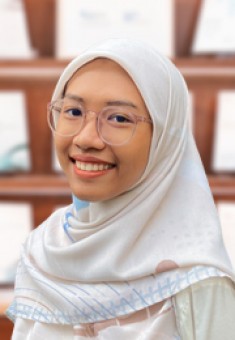 Aulia Salsabella Suwarno
Research Associate
Aulia Salsabella Suwarno joined ERIA in January 2023 as a Research Associate in the Research Knowledge Centre for Marine Plastic Debris in ASEAN+3 countries.
She holds a Bachelor of Science in Oceanography from Institut Teknologi Bandung. Her passion for environmental conservation drove her to co-establish a youth environmental organisation called Pratisara Bumi, which aimed to promote awareness among Indonesian youths through social media. Her educational video about marine plastic debris won first place in the #Indonesia4Climate competition held by FPCI.
Before joining ERIA, she worked as a Data Analyst for the Minister's Delivery Unit of the Ministry of Marine Affairs and Fisheries Indonesia, where she was involved in the formulation of the ministry's Blue Economy Roadmap for 2045.
Research Interests
Marine plastic debris
Environmental oceanography
Marine ecology
Coastal development
Education
Aug 2017 – Oct 2021

Bachelor of Science (Oceanography)

Institut Teknologi Bandung, Bandung, Indonesia
Experience
Sept 2021 – Dec 2022

Data Analyst

Minister's Delivery Unit, Ministry of Marine Affairs and Fisheries, Indonesia

May 2020 – Present

Co-founder and Chief Executive Officer

Pratisara Bumi

Jan 2021 – Jul 2021

Research Intern

Research Center for Oceanography – National Research and Innovation Agency Indonesia (BRIN)

Aug 2019 – Jun 2021

Assistant Lecturer

Oceanography Department, Institut Teknologi Bandung
Recent Publications
Rachman, A., Suwarno, A.S., Nurdjaman, S. 2022. Application of Deep (Machine) Learning for Phytoplankton Identification Using Microscopy Images. Proceedings of the 7th International Conference on Biological Science (ICBS 2021). https://doi.org/10.2991/absr.k.220406.032