Pandemic Best Policy Strategies Part II: Balancing Health and Economy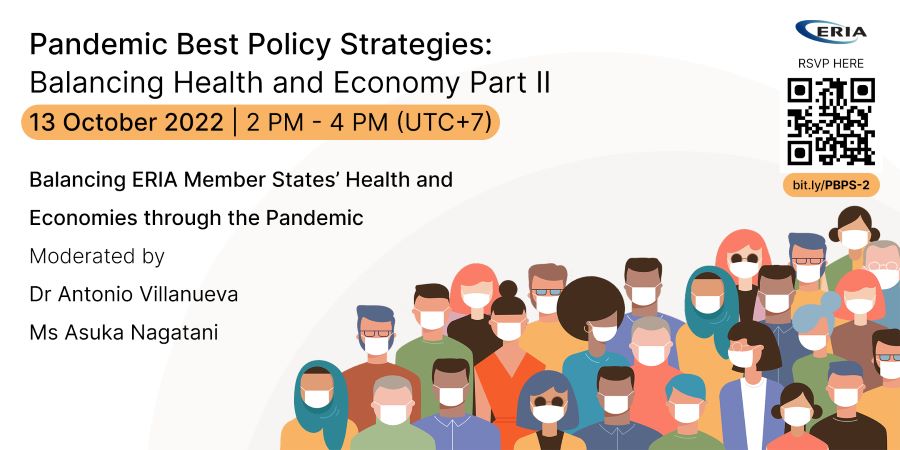 Although many pandemic experts predicted the COVID-19 pandemic to follow the path of other pandemics in history and drizzle away after two years, the Omicron variants have pushed the timeline to now approach three. Inevitably, Governments across the globe have been hard-pressed to work alone within their borders as well as together across borders while striving to balance health and economy. Within the diverse community of ERIA Member States alone, a variety of measures have been tackled to survive through attempts to balance each nation's health and economy.
This webinar series offers the opportunity to share knowledge and experience from each ERIA Member State (EMS) about what they have learned to be most effective, in order to more smoothly exit this pandemic and if necessary, how to live with its endemicity as well as to better prepare for upcoming ones.
In the first part of this series, Indonesia, the Philippines, Thailand, India, Japan, and a senior economist from ERIA shared their notable policy experiences. Due to popular demand, this part two will invite six speakers from other EMSs (candidates are Cambodia, Malaysia, Myanmar, Singapore, Viet Nam, Australia, and China). The webinar will be conducted in English.
Objectives
Enhance public awareness of pandemic best policy strategies that have been implemented and observed to balance health and economy successfully within the region.
Share actual innovative pandemic best practices from both developing and developed economies within the region.
Document pandemic best practices that can be referred to in preparation for and during upcoming pandemics and related health emergencies.
Build and strengthen collaborations by better understanding the situations of neighbors.
Explore the needs of collaborations in research and development within the region.
Event Details
Date: Thursday, 13 October 2022
Time: 2:00 PM - 4:00 PM (Jakarta/UTC+7)
Agenda
14:00-14:05

Welcome Remarks:

Dr Takuma Kato, Director of Healthcare Unit, ERIA

14:05-14:50

Part 1

Moderator:

Dr Antonio Villanueva, Senior Advisor on Healthcare Policy, ERIA

Experts:

Dr Sovann Ly, Advisor to Ministry of Health as Secretary of State, Phnom Penh, Cambodia
Prof Kun Tang, Vanke School of Public Health, Tsinghua University, Beijing, China
Dr Lili Yan Ing, Lead Advisor for Southeast Asia, ERIA

14:50-14:55

Break

14:55-15:25

Part 2

Moderator:

Ms Asuka Nagatani, Senior Policy Officer of Healthcare Unit, ERIA

Experts:

Prof Alex Cook, Vice Dean, Saw Swee Hock School of Public Health, National University of Singapore
Dr Tran Mai Oanh, Director, Health Strategy and Policy Institute, Hanoi, Viet Nam

15:25-15:45

Q&A:

Ms Isabella Italia Gentajaya, Information and Communications, ERIA