Inclusive Education in ASEAN: Fostering Belonging for Students with Disabilities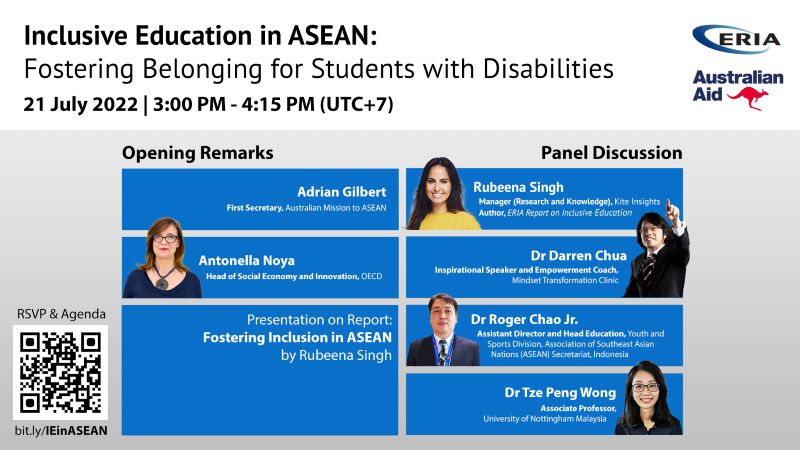 Education systems provide students, who are diverse learners and come from various economic backgrounds, with the unique opportunity to learn skills for the future. It also provides an environment for students to come together and learn from each other. Creating inclusive education systems and environments should be a key focus of education policies, where opportunities abound for all students, including those with different physical and intellectual abilities to have the necessary tools to flourish.
The Economic Research Institute for ASEAN and East Asia, ERIA, partnered with Rubeena Singh and conducted a study on inclusive education practices in primary and secondary schools in the ASEAN region and select countries in East Asia. This dissemination event shared will share the key findings from the recently published ERIA's research project report. Join us for this special session where we will share more about the report and where we engage our panel of enlightening speakers in an afternoon of conversations.
Event Details
Date: Thursday, 21 July 2022
Time: 3 PM - 4:15 PM (Jakarta time, UTC+7)
Agenda
| | |
| --- | --- |
| 3.00PM – 3:02PM | Start of Webinar |
| 3:02PM - 3:06PM | Opening Remarks: Antonella Noya, Head of Social Economy and Innovation OECD |
| 3:06PM – 3:10PM | Opening Remarks: Adrian Gilbert, First Secretary, Australian Mission to ASEAN |
| 3:10PM - 3:30PM | Presentation on Report - Fostering Inclusion in ASEAN: Rubeena Singh, Manager (Research and Knowledge), Kite Insights, Author, ERIA Report on Inclusive Education |
3:30PM - 4:00PM

Panel Discussion

Speakers:

Rubeena Singh, Manager (Research and Knowledge), Kite Insights, Author, ERIA Report on Inclusive Education
Dr Darren Chua, Inspirational Speaker and Empowerment Coach, Mindset Transformation Clinic
Dr Tze Peng Wong, Associate Professor, University of Nottingham Malaysia
Dr Roger Chao, Jr., Assistant Director and Head Education, Youth and Sports Division, Association of Southeast Asian Nations (ASEAN) Secretariat, Indonesia

Moderator: TJ Ooi, Lead Consultant, E-S-I Knowledge Lab
4:00PM - 4:10PM

Q&A

Moderator: Lina Maulidina Sabrina, Programme Officer, ERIA
| | |
| --- | --- |
| 4:10PM - 4:15PM | Closing Remarks: E-S-I Knowledge Lab |