Escalating the Role of Gas in Energy Transition
Virtual Workshop as a Side Event under ETWG G20 2022.
Hosted by Ministry of Energy, Mineral Resources, Indonesia (MEMR) and Economic Research Institute for ASEAN and East Asia (ERIA)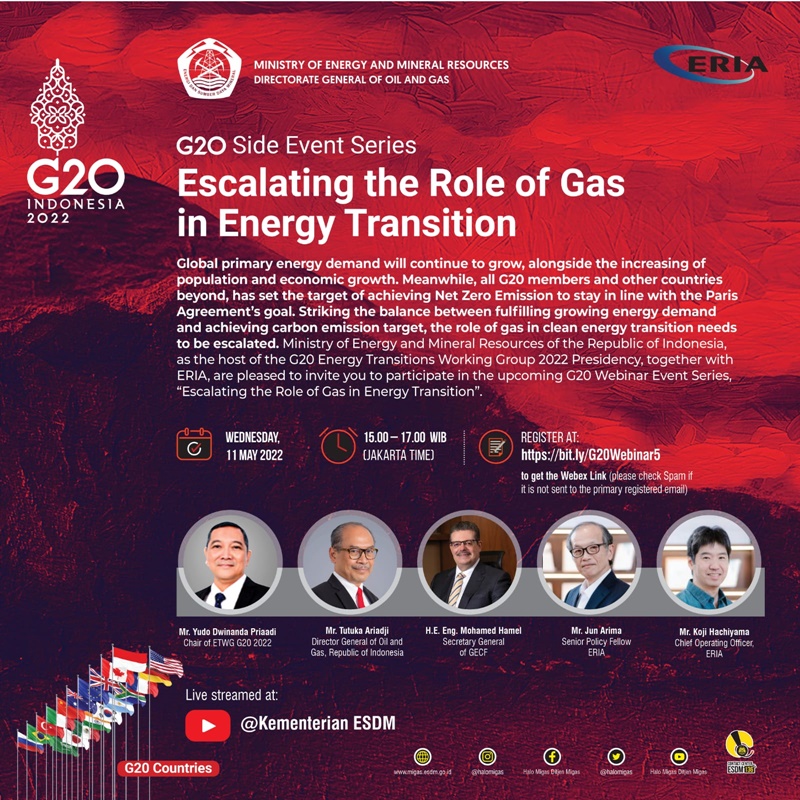 As developing countries aim to achieve similar economic standards of developed countries, their electricity demand has been significantly increasing. For example, between 2000 and 2017, final electricity demand in the East Asia Summit (EAS) least-developed to upper-middle income countries has increased by an average rate of 8.4 percent per year whilst that of the EAS high-income countries had increased by an average rate of merely 0.7 percent per year (Han and Kimura, 2021). Most of these countries have been depending on thermal power generation that consumes fossil fuels because of its economic feasibility and high-capacity factor.
However, to achieve the low carbon energy transition, another available options for developing countries is to shift from coal to gas power generation. Despite higher gas prices relative to coal, this shift should take place in parallel with the increasing use of renewable energies such as solar photovoltaic (PV) systems. Thus, under the low carbon energy transition period from 2020 to 2030 or 2040 facing uncertainty of volatile international energy markets both oil and gas due to the war in Ukraine caused by Russia, the role of gas must be escalated to achieve carbon dioxide (CO2) reduction while maintaining the affordability of electricity prices.
Confirming the 'Principles of Energy Collaboration' endorsed by G20 leaders at the 2014 G20 summit in Brisbane, the energy ministers meeting in Argentina in 2018 highlighted the importance of investment in infrastructure and the role of digitalization and flexibility in the power sector, including the role of natural gas in the G20 countries.
The 2022 G20 Indonesia Presidency Energy Transition pillar includes the main topic of 'Global Cleaner Energy Systems and Just Transitions' that aims at 'achieving global deal to accelerate energy transition'.
This workshop will provide new insights into how to escalate the role of natural gas as part of the just process of low carbon energy transition in developing countries which shall foster the G20 energy transition agenda paying attention to uncertainty on gas market.
This workshop also aims to support G20 Members to understand the different pathways to escalate the use of natural gas in meeting final energy demand in developing countries in the low carbon energy transition context, while pursuing and strengthening the implementation of the previous 2021 G20 Italian action plan that includes ensuring access to clean energy for all, especially in developing countries.
Event Details
Date: Wednesday, 11 May 2022
Time: 3 PM- 5 PM (Jakarta time, UTC+7))
Agenda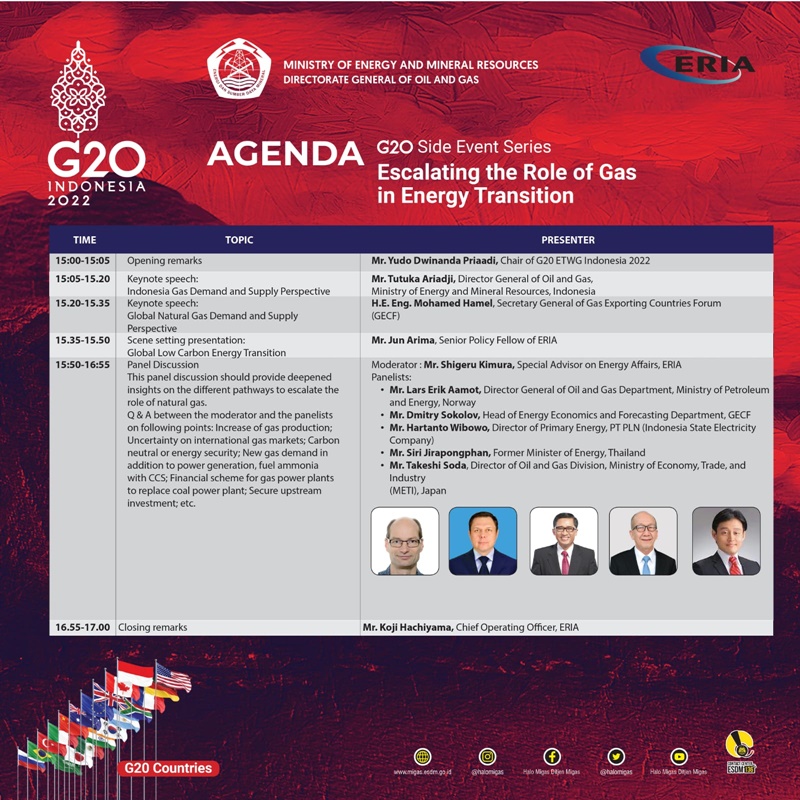 Time

Topic

Presenter

3 PM to 3:05 PM

Opening Remarks

Dr Yudo Dwinanda Priaadi, Chair of ETWG G20 2022

3:05 PM to 3:20 PM

Keynote Speech:

Indonesian Gas Demand and Supply Perspective

Prof Tutuka Ariadji, Director General of Oil and Gas (MIGAS), Indonesia

3:20 PM to 3:35 PM

Keynote Speech:

Global Natural Gas Demand and Supply Perspective

H.E. Eng. Mohamed Hamel, Secretary-General of Gas Exporting Countries Forum (GECF)

3:35 PM to 3:50 PM

Scene setting presentation:

Global Low Carbon Energy Transition

Prof Jun Arima, Senior Policy Fellow of ERIA

3:50 PM to 4:55 PM

Panel Discussion moderated by Mr Shigeru Kimura, Special Advisor on Energy Affairs, ERIA

This panel discussion should provide deepened insights on the different pathways to escalate the role of natural gas.

Q & A between the moderator and the panelists on following points: Increase of gas production; Uncertainty on international gas markets; Carbon neutral or energy security; New gas demand in addition to power generation; fuel ammonia with CCS; Financial scheme for gas power plants to replace coal power plant; Secure upstream investment; etc.

Mr Lars Erik Aamot, Ministry of Petroleum and Energy, Norway
Mr Dmitry Sokolov, Head of the Energy Economics and Forecasting Department of the Gas Exporting Countries Forum (GECF)
Mr Hartanto Wibowo, Director of Primary Energy, PT PLN (Indonesia State Electricity Company)
Mr Siri Jirapongphan, Former Minister of Energy, Thailand
Mr Takeshi Soda, Director of Oil and Gas Division, Ministry of Economy, Trade, and Industry (METI), Japan

4:55 PM to 5 PM

Closing Remarks

Koji Hachiyama, Chief Operating Officer (COO) of ERIA