Myanmar-ERIA-Harvard Symposium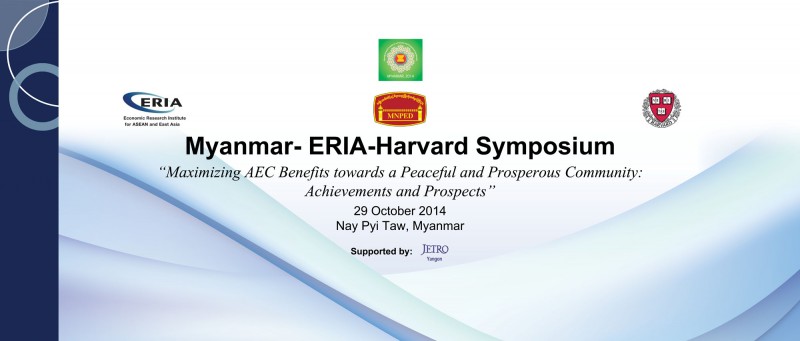 Concept
Myanmar's chairmanship of ASEAN for 2014 has set the theme: "Moving Forward in Unity to a Peaceful and Prosperous Community". One of the deliverables is to set the priority areas for acceleration in implementation of the ASEAN Community, to review the status of community building, to set future initiatives to vitalize ASEAN, and to formulate programmes in promoting ASEAN external relations.
As ASEAN moves into 2015, it is worth reviewing ASEAN achievements and success stories as much as the challenges into 2015 and beyond. At the same time, the success of economic community buildings depends to some extent on how ASEAN SMEs are impacted, benefit from, and adjust to deeper economic integration under AEC. SMEs benefit from deeper regional integration efforts by their active participation directly and indirectly in regional trade, high value-adding production networks, and investment. They also benefit from the more robustly growing domestic markets arising from the success of AEC in attracting higher investment from within the countries and abroad, and the corresponding more robust economic growth. The success of ASEAN economic community building into 2015 and beyond also depends on the success of ASEAN socio-community building, and of ASEAN community building overall, and thereby bring out the inherent complementarity among the three communities under ASEAN.
This one-day Symposium is organized to discuss and articulate to the public a number of key issues on "Maximizing AEC Benefits towards a Peaceful and Prosperous Community: Achievements and Prospects", addressing the following key elements:(1) Visualizing ASEAN Economic Community 2015 - Achievements and Prospects(2) Maximizing AEC Benefits through a more Dynamic and Competitive ASEAN SMEs(3) Toward a United and Peaceful and Prosperous ASEAN beyond 2015
It is hoped that ideas, insights, recommendations, and the deliberation of the Symposium could be presented formally to the ASEAN Heads of State by the Executive Director of ERIA during the ASEAN Summit in Nay Pyi Taw in November 2014.
Agenda
Press Release