ERIA FRAMES | February 2018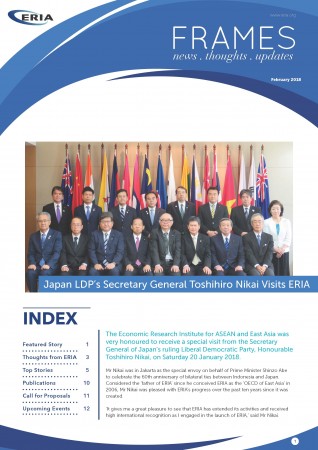 The Economic Research Institute for ASEAN and East Asia was very honoured to receive a special visit from the Secretary General of Japan's ruling Liberal Democratic Party, Honourable Toshihiro Nikai, on Saturday 20 January 2018. Mr Nikai was in Jakarta as the special envoy on behalf of Prime Minister Shinzo Abe to celebrate the 60th anniversary of bilateral ties between Indonesia and Japan. Considered the 'father of ERIA' since he conceived ERIA as the 'OECD of East Asia' in 2006, Mr Nikai was pleased with ERIA's progress over the past ten years since it was created. Read more.
The annual Research Institutes Network (RIN) meeting was held in Jakarta, Indonesia on 29 January 2018, organised by the Economic Research Institute for ASEAN and East Asia together with the Institute of Developing Economies - Japan External Trade Organization (IDE-JETRO). Read more.
Think tanks play an important role in shaping public policy around the world, said Izuru Kobayashi, the Chief Operating Officer of ERIA, in his opening remarks for the discussion 'Why Think Tanks Matter More Than Ever'. Read more.
Click here to read the online version with the latest stories, publications, and events.
Click here to read and download the PDF version.
Click here to subscribe to ERIA Frames.