Toward Economic Integration in ASEAN and East Asia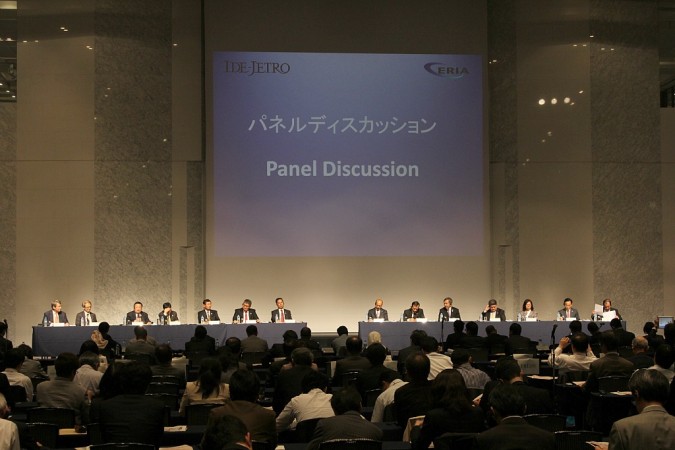 As a part of ASEAN Roadshow, ERIA and Institute of Developing Economies, JETRO (IDE-JETRO) organized FTA Symposium on "Toward Economic Integration in ASEAN and East Asia" on 27 April 2012 in Tokyo, Japan.
Around 250 participants including ASEAN Economic Ministers, government officials, and experts attended the Symposium.
Mr. Hidetoshi Nishimura, Executive Director of ERIA, mentioned that ASEAN is regarded as the driving force of FTA formation in the region and stressed the importance of FTA/EPA covering a wide area of cooperation and Regional Comprehensive Economic Partnership (RCEP) for further economic integration and further development of production networks in his opening speech.
In the Symposium, Dr. Lim Hong Hin, Deputy Secretary-General of ASEAN made a keynote speech on "Overview and Status of ASEAN Regional Economic Integration". Dr. Ganeshan Wignaraja, Director, Research Department of ADBI, Prof. Fukunari Kimura, Chief Economist of ERIA, and Mr. Masao Suematsu, COO of DENSO International Asia co., Ltd. made a presentation.
After that, the Discussion/Q&A session was conducted. It was moderated by Dr. Takashi Shiraishi, President of IDE-JETRO and ASEAN Economic Ministers participated in the session. In conclusion, Mr. Boonsong Teriyapirom, Minister of Commerce of Thailand made a closing speech.
The Symposium enhanced the knowledge of Japanese stakeholders on ASEAN regional integration initiatives such as the ASEAN Economic Community (AEC), the Master Plan on ASEAN Connectivity (MPAC) and RCEP.
CHOOSE FILTER