ERIA jointly Publishes Special Report on Southeast Asia Energy Outlook with IEA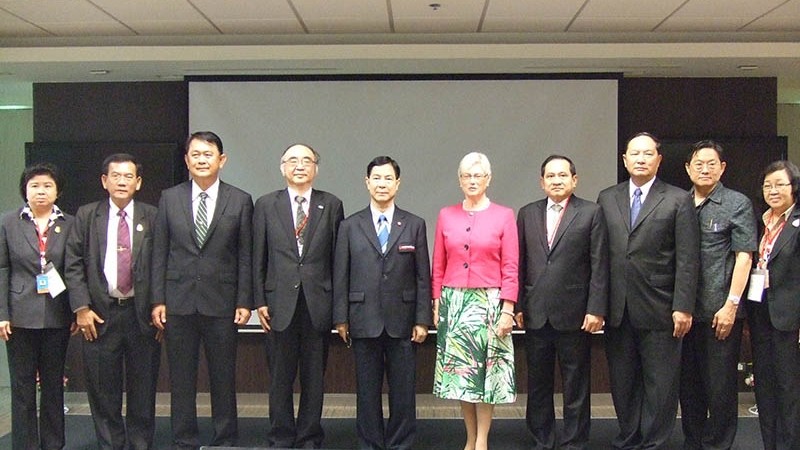 ERIA jointly published Special Report on "Southeast Asia Energy Outlook" with International Energy Agency (IEA) and its launching ceremony was held on October 2nd 2013 in Bangkok, Thailand.
There were more than 100 key participants from various Agencies in Thailand including Executive staff from Ministry of Energy, PPT Public Company limited, embassies and key stakeholders in energy sectors.
At the 7th East Asia Summit Energy Minister Meeting which was held on September 26, 2013 in Bali, Indonesia, the Ministers welcomed this special report on "South East Asia Energy Outlook" which is published in connection with the IEA's 2013 edition of the World Energy Outlook. This outlook provides a robust analysis of energy demand prospects, energy resources and supply potential, implications of energy development in balancing supply for domestic use, exports and impacts on energy security, environment and economy in the region.
The launching ceremony was presided over by His Excellency Dr. Wichianchot Sukchotrat, Vice Minister of Energy of Thailand, Her Excellency Mrs. Maria van der Hoeven, Executive Director of IEA, and Prof. Hidetoshi Nishimura, Executive Director of ERIA.
In his opening remarks, Prof. Nishimura said that ERIA is strongly committed to support the activities in energy field and it will continue to collaborate with IEA and ASEAN countries on energy issues and challenges through providing information impacting the country policy formulations.
Beside his role as a chair of the Panel Discussion during the launching of this Outlook, Prof. Nishimura also jointed the Press Interview along with the Vice Minister of Energy and Executive Director of IEA. Prof. Nishimura informed the Press of the relevant energy studies done by ERIA and also the new study to be conducted by ERIA on shale gas market and its impacts on ASEAN and East Asia. The issue of shale gas other emerging issues have been addressed in the report of Southeast Asia Energy Outlook.
Following the launch in Bangkok, IEA, in cooperation with ERIA, released the Southeast Asia Energy Outlook, which can be downloaded from the link below:
http://www.iea.org/publications/freepublications/publication/name,43534,en.html
CHOOSE FILTER