ERIA Hosts Webinar on Women Entrepreneurship Amidst COVID-19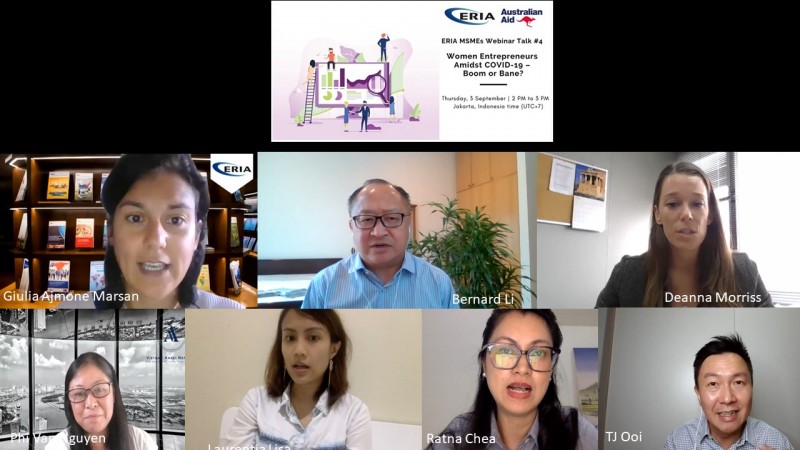 Jakarta, 3 September 2020: ERIA hosted the MSMEs Talk #4- Women Entrepreneurs Amidst COVID-19 – Boom or Bane? This webinar was part of a series organised under ERIA's Strategy and Partnership Programme, funded by Australia. The webinar was held on the 3rd of September 2020 and attracted more than 185 participants from the Asia-Pacific region.
Dr Giulia Ajmone Marsan, ERIA's Director of Strategy and Partnership opened the webinar, briefly outlining the crucial role of women entrepreneurship to promote inclusive economies in the post-pandemic recovery. Over the past decade, the number of women entrepreneurs has increased steadily within ASEAN. According to the Global Entrepreneurship Monitor 2018, more than 60 million women across ASEAN operate businesses, the majority of which are SMEs. Digitalisation has been a major enabling factor, empowering many women to start small businesses from their own homes. Dr Ajmone Marsan also highlighted ERIA's upcoming research on women and the digital economy in ASEAN, a new stream of work under ERIA's Strategy and Partnership programme.
The five speakers of the webinar were:
Ms Ratha Chea, Founder & CEO of Khmum Technology (Cambodia)
Ms Phi Van Nguyen, Chairwoman of Vietnam Angel Network (Vietnam)
Ms Laurentia Lisa, CEO of Cyber Olympus (Indonesia)
Mr Bernard Li, Program Director, APEC Secretariat
Ms Deanna Morris, Programme Management Officer, UNESCAP
The main messages that emerged from the discussion include:
Women's participation in economic activity and global value chains is key to promote greater inclusive economic development resulting in poverty reduction and livelihood improvements within ASEAN and beyond in the post-pandemic phase.
Digital transformation and innovation are able to accelerate the role of women-owned and women-led entrepreneurs during the COVID-19 pandemic.
As the pandemic is accelerating the transition towards digital economies, policymakers need to pay increasing attention to digital gender equality to empower women for future careers. For instance, by making sure women have adequate access to digital skills.
The importance of government policy to support a conducive environment for women's participation in the economy including lowering barriers to credit and access to finance and enhancing protections within regulatory frameworks.
Promoting public-private partnership (PPP) to accelerate women's participation in digitalisation and economic activity is also an important way to support women entrepreneurship.
Ms Ratha Chea, Founder & CEO of Khmum Technology from Cambodia, stated that the challenges for women-led businesses are visible in the often limited support in finance, ICT, skills, and public policy support. She highlighted the importance of bridging the gender gap in economic sectors to promote sustained economic activity.
Ms Phi Van Nguyen, Chairwoman of Vietnam Angel Network, stated that the pandemic has caused many disruptions in business, yet has also opened opportunities for digital transformation of women entrepreneurs. She noted the importance of public-private partnerships to create a positive business environment, especially for women participation in the economy of the future.
Ms Laurentia Lisa, CEO of Cyber Olympus from Indonesia, noted that the pandemic has accelerated the increased demand for digital adoption by women-led businesses. She also highlighted the importance of innovation for women entrepreneurs during the pandemic and of the government's support for women to thrive and embark on the entrepreneurship journey.
Mr Bernard Li, Program Director of APEC Secretariat, and Ms Deanna Morris Programme Management Officer of UNESCAP agreed on the challenges that might hinder women entrepreneurship, such as the limited access to finance and credit to maintain sustainable cashflow in business.
Mr Li added the importance of generating a policy framework that embraces an open and inclusive market economy in the region. Ms Morris explained how fintech can accelerate changes and adoption in the new business model.
During the Q&A session, themes that emerged included: (i) the emerging trend of growing products and services variety in women-led businesses; (ii) the need for policies enabling positive dynamics for women entrepreneurs; (iii) the important role that public-private partnerships can play to support women entrepreneurship; and (iv) the need of national and supranational strategies for women entrepreneurship to embrace and to thrive in the future economy.
Related ERIA Publication
Related Articles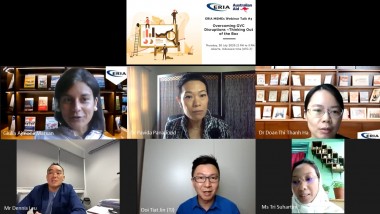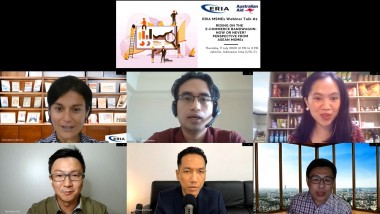 CHOOSE FILTER