ERIA Conducts the 2nd Developing AEC into Global Service Hub Workshop in Yogyakarta, Indonesia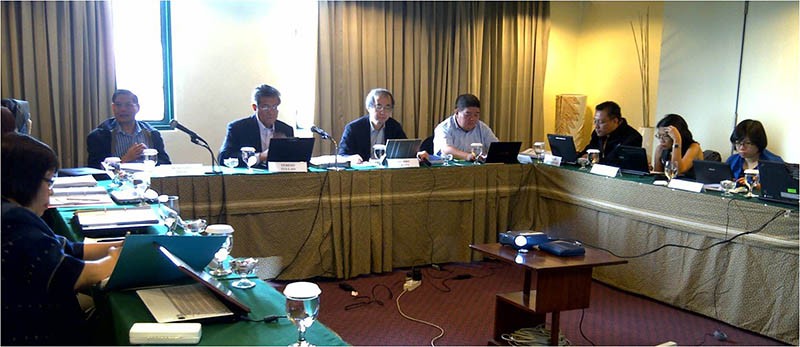 The Economic Research Institute for ASEAN and East Asia (ERIA) hosted the second workshop on the development of ASEAN economic community into a Global Service Hub in Yogyakarta, Indonesia on 3-4 February 2012. The workshop participants consisted mainly of the country paper writers focusing on the health care services and the creative services sectors.
During the workshop, there were substantive discussions on the current development of the health services sector in Malaysia, Singapore and Thailand. With the aging population, growing middle class, rising chronic and non-communicable diseases and leading tourist destination, there are ample opportunities for the region to be global player for this service sector. However there are issues that would need to be addressed including internal and external brain drain of health professionals; insufficient number of training institutions; segmentation of health care industry; quality and pricing of health services; portability of medical insurance; and the impact of medical tourism on the provision of public health services.
There were also discussions on the development of the creative services sector in Indonesia, Philippines and Vietnam. In the animation industry, the availability of training programs in educational institutions, supporting telecommunication infrastructure, the adaptability to new techniques, the existence of strong business associations and the networking with foreign owned animation firms hold promises for the region to develop itself as a global service player for this sector. Nonetheless, there are challenges that need to be addressed including inadequate institutional support; difficulty in retaining skilled and experienced workers; lack of entrepreneurial and managerial skills on the part of designers; and lack of capacity to take on large projects.
Similarly in fashion design, there are elements of unique ethnic touch, degree of subtle sophistication, networking with seasoned designers, availability of local and foreign raw materials, and huge domestic market which spell potentials waiting to be developed. However, as with the animation industry, it has its own weaknesses that need to be addressed including inadequate number of designers; insufficient investment in new equipment; weak linkages among entrepreneurs, designers and business associations; as well as limited skills in branding and creating market niches.
ERIA Conducts the 2nd Developing AEC into Global Service Hub Workshop.pdf
CHOOSE FILTER