ERIA and UNCTAD Holds Lunch Meeting on NTM Database for RCEP Countries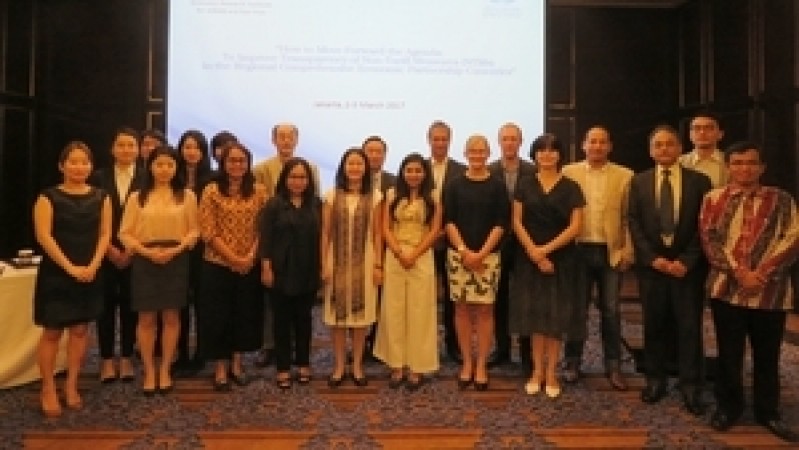 On 2 March 2017, the Economic Research Institute for ASEAN and East Asia (ERIA) and the United Nations Conference on Trade and Development (UNCTAD) held a lunch meeting in Jakarta to discuss the progress of the development of the Non-Tariff Measures (NTMs) Database for RCEP countries (Australia, China, India, Japan, Republic of Korea and New Zealand).
The meeting was attended by the Australian Ambassador to ASEAN, H.E. Jane Duke, the Indian Ambassador to ASEAN, H.E. Suresh K Reddy, the Korean Ambassador to ASEAN, H.E. Suh Jeong-in, the Economic and Commercial Counsellor of the China Mission to ASEAN, Mr Tan Shufu, the First Secretary of Japan Mission to ASEAN, Mr Daisuke Asakura, the Deputy Head of Mission of New Zealand Mission to ASEAN, Ms Shannon Ward, national consultants and government officials from each of the countries.
Prof Hidetoshi Nishimura, the President of ERIA, expressed his deep appreciation of the work by the national teams for NTM data collection for six RCEP countries. The initiative follows on the successful NTM data collection for ASEAN countries, which promotes better understanding and transparency of existing NTMs among government officials, academics, NGOs and business society. The ASEAN NTM database is available to the public at http://asean.i-tip.org for public, and the East Asian countries database will be published by mid-2017.
The work on NTMs is important because although multilateral trade negotiations have helped to substantially reduce tariff rates, NTMs have increased significantly year by year. The ERIA - UNCTAD NTM data collection for East Asia countries is the first step in the improvement of NTMs' transparency before further institutionalisation in countries. The work will be beneficial to support the reviewing of NTMs through the Regional Comprehensive Economic Partnership (RCEP) negotiations or High Level Task Force on ASEAN Economic Integration (HLTF-EI) and East Asia Summit Senior Economic Officials Meeting (EAS SEOM). The Ambassadors and government representatives welcomed the initiatives and endeavours to bring the awareness of NTM issues to national policy-makers.
CHOOSE FILTER