ASEAN's Energy Transition Goals Outlined by ERIA at 1st Asia Green Growth Partnership Ministerial Meeting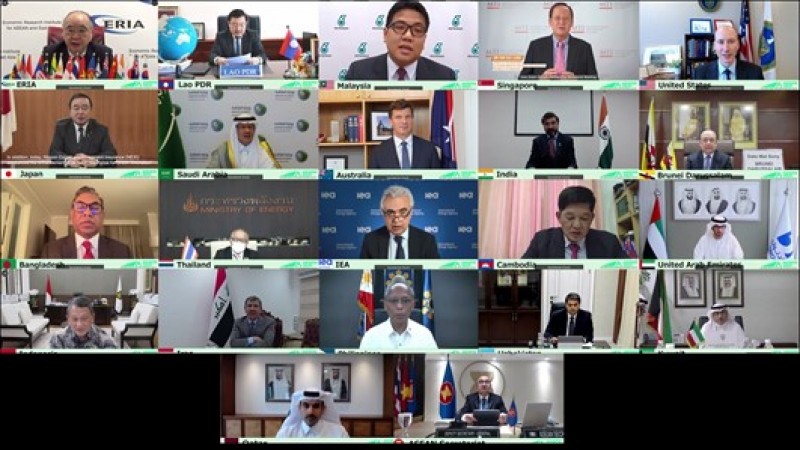 Tokyo, 4 October 2021: The Ministry of Economy, Trade, and Industry (METI) Japan hosted the 1st Asia Green Growth Partnership Ministerial Meeting which brought together Ministers from 20 countries and international organizations including the ASEAN Secretariat, the Economic Research Institute for ASEAN and East Asia (ERIA), and the International Energy Agency (IEA). In his opening remarks, the Minister of Economy, Trade and Industry, Japan H.E. Mr Kajiyama Hiroshi, shared that each Asian country must plan a diverse and realistic pathway for energy transition tailored to its particular conditions. The plans must also be aligned with the aims of the Paris Agreement to expedite the pace of energy transition.
Prof Hidetoshi Nishimura, President of ERIA, represented the organisation at the event in which he shared the results of ASEAN's low-carbon energy transition scenario as well as outcomes from the Asia Carbon, Capture Utilization, and Storage (CCUS) Network, 4th East Asia Energy Forum, and 15th EAS Energy Ministers Meeting. According to the East Asia Summit Energy Outlook, updated by ERIA in 2019-20, ASEAN's energy demand is expected to grow rapidly by 2050. Under the Alternative Policy Scenario, which incorporates aggressive energy-saving targets, ASEAN's primary energy demand is on course to double with fossil fuels projected to account for nearly 80% of the region's major energy mix. In light of this, Prof Nishimura shared that ERIA is working to further analyse ASEAN's low-carbon energy transition scenarios in line with global trends to establish carbon neutrality targets.
A successful regional energy transition is at the core of Japan's proposed Asia Energy Transition Initiative (AETI). AETI is intended to serve as a resource for ASEAN Member States (AMS) as they consider their own low-carbon energy transition plans. Among some of the proposed initiatives stipulated in the AETI includes deploying cost-effective energy technology such as solar, wind, hydrogen, and CCUS and assessing the possibility of AMS becoming carbon neutral by a specific year. AETI's current research findings reveal how the use of fossil fuel will be significantly reduced by 2050 as cleaner energy alternatives like ammonia, hydrogen, biomass, wind, solar, and geothermal increase. Renewables are expected to become the primary energy source in Southeast Asia by mid-century although it would not account for 100% of total energy use; co-firing, hydrogen and ammonia will contribute to the overall energy use.
Prof Nishimura outlined three key policy takeaways based on ERIA's research studies on clean energy transition namely: (1) Energy conservation, electrification in end-use industries, and low-carbon power supply must consider wide-ranging types of technology; (2) Various types of 'low-carbon' technologies can efficiently cut carbon dioxide emissions during the transition period; (3) cost reduction and international cooperation are required to support cost-effective decarbonisation goals. With the continued use of fossil fuel in ASEAN's future energy mix, Prof Nishimura underscored the integral role of CCUS in achieving regional carbon neutrality. As such, ERIA and METI established the Asia CCUS Network in June 2021, and since then, it has hosted two workshops and a capacity-building programme. As a prominent research institute, ERIA is committed to promoting pragmatic policy statements that reflect realistic regional energy transition and will work to support Indonesia in its G20 Presidency role in 2022.
The Executive Director of the IEA, Dr Fatih Birol, reaffirmed the organisation's commitment to working closely with Southeast Asian governments to support regional energy transition measures. Before the pandemic, Southeast Asia's energy consumption had been steadily increasing with fossil fuels meeting 90% of regional energy demand over the last 20 years; the latter also demonstrates Asia's capability as a years-long energy exporter. The IEA found that the region has immense potential for wide-ranging renewable energy sources to strengthen its carbon-free objectives. To achieve regional energy security and affordability, ASEAN must accelerate energy efficiency measures and enhance renewable and low carbon technologies which can be supported by Japan. Dr Birol underscored the need for significant mobilisation of financing to meet net-zero emissions target which will require massive spending on clean energy initiatives. The private sector can lend its support to clean energy financing thus helping to boost economic growth while remaining in line with a carbon-free pathway. With numerous challenges required in global energy transition, Dr Birol asserted the IEA's readiness to assist and support all regions including Asia.
Ministers from Saudi Arabia, Thailand, United Arab Emirates, Bangladesh, Brunei Darussalam, Cambodia, India, Indonesia, Iraq, Kuwait, Philippines, Qatar, Uzbekistan, Viet Nam, Lao PDR, Singapore, Malaysia, Australia, and the United States delivered an Opening Speeches highlighting each country's efforts to accelerate a realistic energy transition and the role of international collaboration in meeting this objective. Respective Ministers emphasised the importance of reducing greenhouse gas (GHG) emissions to comply with the Paris Agreement and to make real progress on climate change goals. It is crucial for Asia to succeed in cutting back GHG emissions as it is home to several of the world's fastest-growing economies and most populous countries. The speeches further outlined national long-term carbon neutrality goals as well as current endeavours to realise a low-carbon future.
Deputy Secretary-General of ASEAN for the ASEAN Economic Community, HE Mr Satvinder Singh stressed ASEAN's role in the global transition to a low-carbon, sustainable future. Although AMS differ in their levels of development, the region is striving to find a balance between meeting public demand for secure and affordable energy while collectively working to reduce carbon emissions. HE Mr Singh shared how ASEAN is taking a holistic approach to energy transition to meet its energy security and climate targets. In the ASEAN Plan for Action for Energy Cooperation, the region too into account its current capabilities and resources to determine ambitious energy intensity and renewable energy objectives. In 2020, ASEAN successfully met or exceeded its energy intensity targets and is more than halfway to fulfilling its share of renewable energy target.
CHOOSE FILTER