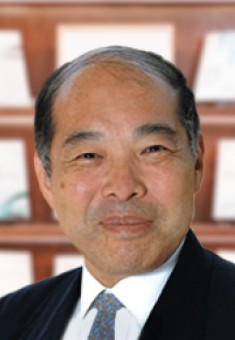 Hiroki Nakatani
Senior Advisor to the President on Healthcare Service
Dr Hiroki Nakatani has held academic positions in Japan as Visiting Professor (Pharmacology) at the School of Medicine of Keio University and Invited Professor (Public Health) at Osaka University Post Graduate School of Medicine. He also serves in various national and international organisations as an Advisor on International Affairs, Ministry of Health, Labour and Welfare; Chair & Representative Director, Board of Directors, Global Health Innovative Technology Fund (GHIT Fund); Senior Advisor, Economic Research Institute for ASEAN and East Asia (ERIA); Director, Human Resource Strategy Center for Global Health.
He has been a veteran public health specialist for over 40 years who started his career at the Ministry of Health, Labour and Welfare in Japan. He worked extensively in the area of health policy, public health, international health, and health science and technology. His national career includes serving as Director-General of Welfare and Health Services in Hiroshima Prefecture, where he was in charge of integrating health and welfare services in preparation for the arrival of a rapidly ageing society.
With regard to his international career, he served the WHO Headquarters twice. From April 1988 to March 1993, he was a Policy Analyst in the Department of Human Resources for Health. From March 2007 to May 2015, he served as Assistant Director-General of WHO, leading the largest technical cluster of HIV/AIDS, Tuberculosis, Malaria, and Neglected Tropical Diseases. During his tenure, the morbidity and mortality of these three major infections showed trends of decline, and a few tropical diseases were on track towards elimination and even eradication (dracunculiasis or guinea worm disease).
Since the completion of his tenure, he has continued to serve the WHO as Member Independent Oversight and Advisory Committee for the WHO Health Emergencies Programme (2016-2018); Member, WHO Executive Board (2017-2020, 2021-2022); Chair WHO Executive Board (2019-2020); Chair, Committee A of the 75th World Health Assembly (2022); Chair of the Expert Group on Ageing, WHO Regional Office for South East Asia (2019-present), and Member of various other organisational governance, audit, and advisory committees within WHO.
Dr Nakatani received his MD from Keio University School of Medicine, MHPEd from the University of New South Wales, and PhD from Keio University.
Expertise
Proven track record of effective management of the international organization
Link Research and Policy
Unbeatable Experience of Multinational Policy Formulation Process
In-depth understanding and experience in infectious diseases related partnerships
Education
2000

Public Health, Keio University, Tokyo (PhD)

1981

Master of Health Personnel Education

University of New South Wales, Sydney

1977

Bachelor of Medicine

Keio University, Tokyo

Experience
| | |
| --- | --- |
| 2020 - Present | Senior Advisor to the President on Healthcare Services, ERIA |
| 2018 - Present | Chair, Global Health Innovative Technology Fund (GHIT Fund) |
| 2015 - Present | Visiting Professor of Keio University and Invited Professor of Osaka University |
| 2007 - 2015 | Assistant Director-General, World Health Organization |
| 2005 - 2007 | Director-General, Department of Health & Welfare Services for Disabled Persons, Ministry of Health, Labour and Welfare |
| 2003 - 2005 | Director, Division of Health Science, Minister's Secretariats, Planning Coordinator of National Institute of Health Science and Director of Development of new Institute of Biomedical Innovation, Ministry of Health, Labour and Welfare |
| 1999 - 2002 | Director, Division of TB and Communicable Disease, Ministry of Health, Labour and Welfare |
| 1997 - 1999 | Director, Division of AIDS and Specific Diseases, Ministry of Health, Labour and Welfare |
| 1979 - 1997 | Various Public Health Positions at Home and Abroad |
Publications
Hiroki Nakatani: Population aging in Japan: policy transformation, sustainable development goals, universal health coverage, and social determinates of health, Global Health & Medicine, 1(1), pp3-10, 2019

Hiroki Nakatani: Global Strategies for the Prevention and Control of Infectious Diseases and Non-Communicable Diseases, J Epidemiol. 26(4), pp171–178, 2016

Mukund Uplekar, Hiroki Nakatani, Mario Raviglione, et al: WHO's new End TB Strategy, Lancet,Vol 385, pp1799–1801, 2015

Christopher Dye, Thierry Mertens, Gottfried Hirnschall, Winnie Mapanju-Shumbusho, Robert Newman, Mario Raviglione, Lorenzo Savioli, Hiroki Nakatani: WHO and the Future of Disease Control Programmes, Lancet, Vol 381, pp413-418, 2013

Emily Leung, Daiana E Weil, Mario Raviglione, Hiroki Nakatani: The WHO Policy Package to combat antimicrobial resistance, Bulletin of the World Health Organization, Vol 89, pp390-392,2011

Tedros Adhanom Ghebreyesus, Michel Kazatchkine, Michel Sidebe, Hiroki Nakatani: Tuberculosis and HIV: time for an intensified response, Lancet, Vol 375, pp 1757-1758,2010