Selecting the Best Mix of Renewable and Conventional Energy Sources for Asian Communities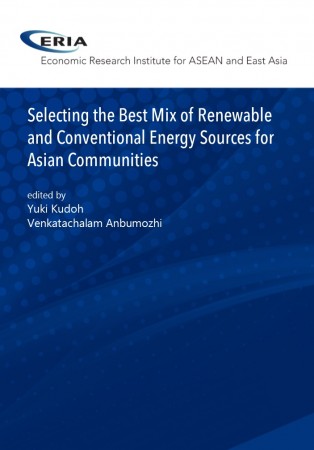 The ERIA Working Group on 'Feasibility Study on the Best Mix of Renewable and Conventional Energy Sources Sustainable for Various Asian Communities' has conducted a two-year project (2013-2015) to establish guidelines on energy systems using renewable energy (RE) sustainable for communities in various Asian countries. Best mix represents the combination of energy resources available to a target community that achieves the maximum positive impacts for the three pillars of sustainability--environmental, economic, and social indicators.
The guidelines comprise the following: • Screening method: This is intended to provide users of the guidelines with a method to narrow down the possible options of energy systems before embarking on the more demanding exercise of selecting the best mix. • The sustainability criteria for selecting the best mix are as follows: ? Energy demand ? Resource availability ? Technology availability ? Environmental indicators ? Economic indicators ? Social indicators • Operational requirements to make the RE initiatives sustainable.
The target users are local governments and other stakeholders that are relevant to RE initiatives. It is expected that the guidelines will contribute to strategies that will enable stakeholders to establish workable RE initiatives and regional energy policies to promote sustainable RE use in various Asian communities.
Full Report
Contents
List of Abbreviations and Acronyms
Chapter 3. Sustainability Criteria for Selecting the Best Mix
Chapter 4. Operational Requirements for a Sustainable RE Initiatives