ERIA and Bappenas Hold High-Level Policy Roundtable on 'Indonesian Manufacturing Development Strategy for 2020-2024'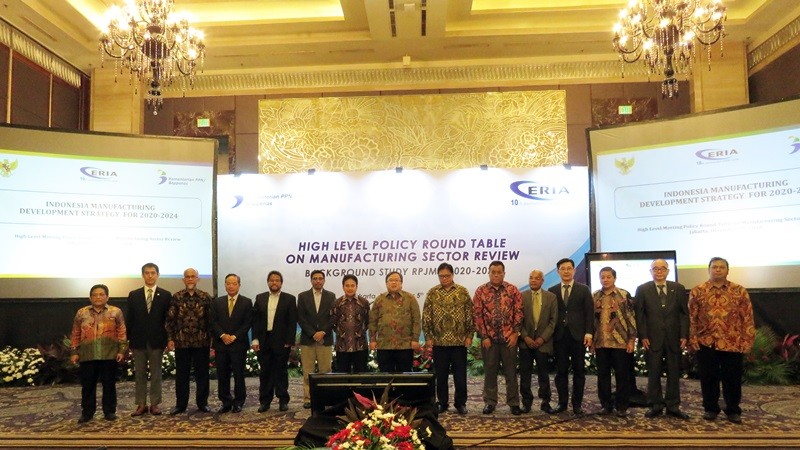 The Ministry of National Development Planning/National Development Planning Agency (Bappenas), Republic of Indonesia, and the Economic Research Institute for ASEAN and East Asia (ERIA) organised a High-Level Policy Roundtable on 'Indonesian Manufacturing Development Strategy for 2020-2024'. The event presented policy recommendations drawn from the background study jointly conducted by Bappenas and ERIA. The background study reviews the performance of the Indonesian manufacturing sector and discusses various factors that contribute to the development of the sector.
The discussion was marked by the presentation from H.E. Prof Dr Bambang Brodjonegoro, Minister of National Development Planning, on the role of manufacturing sector in Indonesia's overall development with a focus on policy directions and strategies for revitalizing the Indonesian manufacturing sector. H.E. Mr Airlangga Hartarto, Minister of Industry, presented on the model of 'Industry 4.0' for the development of Indonesian manufacturing in the future.
The roundtable meeting was followed by comments from participants on the ideas presented by the ministers. The comments covered a range of topics including participating in global value chains (GVC), improving productivity and upgrading technology, export reorientation, and free trade agreement utilization. Members of the discussion included respected international and local academia, such as Professor Ari Kuncoro of the University of Indonesia, Professor Hari Muhammad of the Bandung Institute of Technology, Professor Premachandra Athukorala of the Australian National University, and Professor Chin Hee Hahn of Gachon University in Korea. The discussion also invited comments from Mr. Mirza Adityaswara, Senior Deputy Governor of Bank Indonesia;Professor Hidetoshi Nishimura, the President of ERIA; and Mr. Warih Tjahjono, Toyota Manufacturing Indonesia. The discussion was moderated by Dr. Dionisius Narjoko, ERIA Senior Economist.
Participants agreed that it is high time for Indonesia to take bold actions to improve productivity of its manufacturing sector. One critical route is through significant technology upgrading, including efforts to effectively improve the quality of human capital for the sector. Productivity improvement is a prerequisite for reorienting to export-led manufacturing growth and for sustaining the value creation of the sector.
CHOOSE FILTER