East Asia Summit 'Energy Market Deregulation Forum'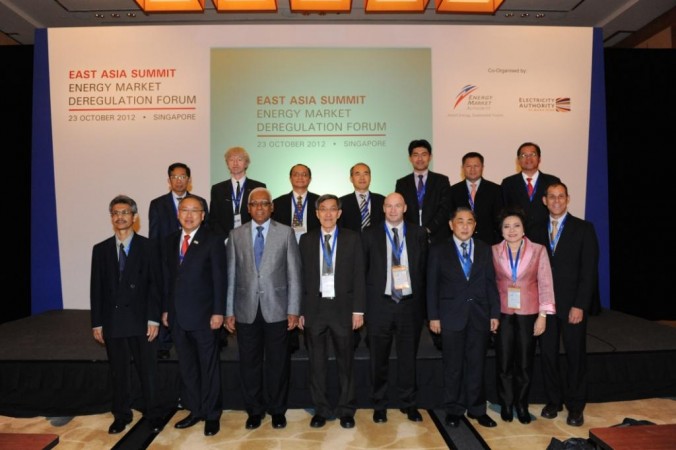 Concept
Energy market deregulation is one of the key areas of focus under the East Asia Summit (EAS) Energy Market Integration (EMI) Work Plan. The inaugural EAS Energy Market Deregulation Forum provided a platform for energy policy makers and regulators to showcase experiences, challenges and recent steps to promote energy market deregulation and to share the various measures used to gauge the performance of the electricity markets in the EAS member states.
Agenda
Session 1 - Market Deregulation
Regulators shared experience on electricity market deregulation in their respective countries, including recent steps taken to promote deregulation and the challenges that they face.
Speakers:
1. Mr. Gil Hong Kim, Director, Sustainable Infrastructure Division, Regional and Sustainable Development Department, Asia Development Bank.
Power Sector Reform in Asia and the Pacific ADB's Experience Sharing
2. Mr.Wong Mui Quee, Senior Director, Economic Regulation & Licensing.
Regulating Singapore's Electricity Industry
3.Mr. Takuya Yamazaki, Director, Electricity System Reform, Electricity Market Division, Agency for Natural Resources Energy.
Electricity system reform in Japan
Session 2 - Gauging the Performance of the Electricity Market
Regulators provided an update on the performance of their electricity markets, and shared the key areas and measures they monitor to gauge the performance of their respective markets.
Speakers:
1. Mr. Carl Hansen, Chief Executive, New Zealand Electricity Authority.
Gauging The Performance of the New Zealand Electricity Market
2. Datuk Ahmad Fauzi, Chief Executive, Energy Commission of Malaysia.
Sustainability of Energy Sources
3. Dr. Pallapa Ruangrong, Commissioner, Energy Regulatory Commission of Thailand.
Power Tariff Structure in Thailand
Useful links
http://www.ema.gov.sg/
http://www.ea.govt.nz/
http://www.ret.gov.au/energy/international_engagement/east_asia_summit_energy_cooperation_taskforce/Pages/EastAsiaSummitEnergyCooperationTaskforce.aspx